About our Project Freight Network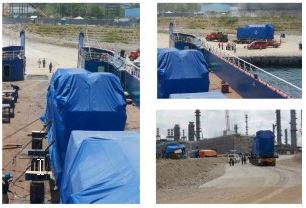 CLC Projects is a project freight network of small and medium sized project freight forwarders.
Our project freight network was established in January 2012. Owned and operated by professionals with background in liner shipping, project freight forwarding, cargo surveying and airfreight.
Benefits of Joining CLC Projects Network of Project Freight Forwarders
CLC Projects links companies together to form a powerful, strong and global alliance of like-minded companies
Together as a team members are able to compete with larger/global players
The owners and the team together support members 100%
CLC Projects provides guidance in nominating the most suitable of our members to work on your project cargo transportation needs
You can be assured of prompt answer and a clear yes/no if we can/cannot help you with your inquiry
Transparency and straight forward dialogue with any potential customer is a hallmark of CLC Projects
Face to face meeting opportunities 1 to 2 times/year at our global conferences
The conference meeting schedules are made for you, everyone meets everyone
Maximum 2 members per country (with some exceptions like China, US, India and Brazil).
Business Intelligence/Sales leads are regularly sent to every single member
Shipowners are welcome to join our network and meet/mingle at our conferences
Membership Guidelines For CLC Projects Network
Membership fees are to be paid once per year and are non-refundable. Payment is due 30 days from the date of invoice.
Each country may be represented by a maximum of 2 members with the exceptions of India, China, USA and Brazil.
Membership Fees: usd 2000/year
Communication must be efficient towards other members. We generally expect to see replies within 48 hours, and always a clear "yes" or "no" as the case may be.
Any member with a poor payment record based on minimum 2 different member complaints may face expulsion from the network.
Sales leads from CLC Projects should be acted on without delay.
Each member company can represent a maximum of 4 countries/provinces/cities within CLC Projects Network per year.
Members must attend minimum 1 conference in a 3-year period or face expulsion from CLC Projects.
Members promise to adhere to proper ethics in their dealings with other members. Observe good behavior, good communication, pay bills in a timely manner and uphold the good reputation of CLC Projects and it's members.
Sales leads from CLC Projects may be of several different variety, cold, warm, and hot. CLC Projects does not guarantee a minimum quantity or quality of leads, the market and circumstances dictate what is available.
By joining CLC Projects members agree to abide by these guidelines.
Bo H. Drewsen
Chairman
CLC Projects Network